Flatbed Trucking Companies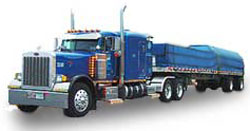 Alabama Flatbeds maintains one of the largest networks of quality flatbed trucking companies in the U.S. This gives Alabama Flatbeds a distinct advantage over the competition when it comes to price, on-time service, and safety. We offer a variety of equipment options in order to meet customer specifications including: 48' flatbeds, 48' - 53' step-decks, RGNs, double drops, maxis and other specialty equipment including multi-axle trailers for extra heavy loads. Our drivers have the ability to handle any type of shipment. In addition to door-to-door service, we handle all aspects of permitting, tarps, routing, clearances, and inspections. Our operation coordinators are in constant communication with our trucks. We understand the needs of our shippers, drivers, and making sure the consignees are well informed. Alabama Flatbeds maintains a strong communication network enabling nationwide visibility. Our dispatch professionals are able to match available trucks with your freight at the lowest cost possible while maintaining the highest standard in safety. We work diligently to locate cost-saving opportunities for our customers.
At Alabama Flatbeds we believe that when you tender a load to us, your business becomes our business. We take complete control in dispatching the driver, safety, setting appointments on both ends, and monitoring on-time pick up and drop off performance. Our drivers provide tracking information to allow each customer constant visibility of their shipment. We strive to exceed your expectations every time!
Contact us to obtain a flatbed quote or to discuss your transportation needs!